Pages: 1 2

bug2

-

3-7-2019 at 09:10 AM



Serbia developing new 120 mm mortar bombs

Christopher F Foss, Belgrade, Serbia - Jane's International Defence Review

02 July 2019

Serbia is developing new 120 mm mortar bombs for local use and export sales, all of which are for 120 mm smooth bore mortars that are already manufactured in the country.

The bombs can be used with the 120 mm M74 towed mortar system manufactured by Serbia's Namenska Special Products Factory and sold externally by Yugoimport-SDPR.

The first of these new 120 mm mortar bombs is the NMM-120 guided mortar round (GMR), which has a maximum range of up to 9 km, depending on the mortar it is fired from, according to the Facility of Mechanical Engineering at the University of Belgrade, which is developing the mortar.

The complete GMR weighs 15.5 kg – of which 2.9 kg is the high-explosive (HE) content (RDX/TNT or TNT) – and it has an overall length of 800 mm.

The NMM-120 GMR is claimed to have a 10 m circular error probable (CEP). It has a nose-mounted guidance/fuze module that corrects the path to the target in the final phase of the flight. The nose-mounted fuze can be set for impact or proximity mode.

Serbia is also developing a rocket-assisted (RA) 120 mm mortar bomb that would have a maximum range of up to 15 km, according to the Facility of Mechanical Engineering. The rocket nozzles are located towards the end of the main body of the mortar bomb.

Total weight is quoted as 19.83 kg, of which 1.65 kg is HE, and the mortar bomb has an overall length of 888 mm. It is fitted with a nose-mounted UTU M93 P1 fuze and has a maximum muzzle velocity of 307 m/s, according to Yugoimport.

(296 of 348 words)
---
bug2

-

12-7-2019 at 12:27 PM



Armed Forces Ministry to Buy 54 Thales 2R2M Mobile Mortars

(Source: Defense-Aerospace.com; posted July 11, 2019)



The French Army will equip 54 of its Griffon multirole armored vehicles with the 2R2M mortar, a 120mm rifled weapon with semi-automatic loader mounted under armor, in a similar arrangement as on this VAB armored vehicle. (FR Army photo)

The French Armed Forces Ministry's Ministerial Investment Committee (CMI) is expected to shortly approve the acquisition of 54 Thales Defense 2R2M vehicle-mounted mortars, the Paris news website La Tribune reported July 10. The weapons will be fitted to a special variant of the French Army's new Griffon wheeled armored vehicle.

The 120mm Rifled, Recoiled, Mounted Mortar (2R2M), whose vehicle-mounted variant will be known as MEPAC, is under armor and protected by a sliding roof, so it remains undetected while on the move. It takes only a few seconds to begin firing, and is operated by a two-man crew (gunner and loader).

Thanks to its semi-automatic loading system, the mortar can fire ten rounds per minute, "with greater precision compared to the rifled, towed version thanks to its recoil brake," according to Thales Defense's website. It can then quickly return to travel position and move away from its firing position to avoid counter-battery fire.

The 2R2M mortar has already been exported to Saudi Arabia, Italy, Malaysia and the Sultanate of Oman, who have already opted for this mortar to equip their elite troops. Other countries in Europe, the Middle East and Asia have also shown their interest in the 2R2M mortar, of which it delivered the 100th unit earlier this year.

-ends-
---
bug2

-

13-8-2019 at 10:20 PM



German Company Rheinmetall new 60mm mortar for infantry & special forces

Posted On Tuesday, 13 August 2019 10:32

German Company Rheinmetall has developed a new 60mm mortar for infantry and special forces. The RSG60 features innovative design and engineering characteristics which make this indirect fire system very light and easy to handle. A few quick manual adjustments turn the 15.8 kg standard infantry version into a commando mortar weighing just 6.8 kg, with no need for tools. This makes the RSG60 a two-in-one solution.



New Rheinmetall 60mm mortar for infantry and Special Forces. (Picture source Rheinmetall)

Depending on the ammunition and charges, the standard version can attain ranges of up 3,200 meters. Equipped with a thirty centimeter-longer barrel, the range increases by around 500 meters. The commando variant of the RSG60 has a range of around 2,000 meters.

About 70 centimeters long, the barrel is made of steel with a carbon fiber over-wrap. This assures the necessary stability at the same time as lower weight, resulting in a barrel that weighs around 30 percent less than a conventional steel mortar. The base plate is made of carbon fiber composite material. The novel design of this indirect fire weapon not only saves space, but it can also be set up and ready to fire in a matter of seconds. Furthermore, by loosening the retaining bolts, it is possible to separate the RSG60 from the base plate in around thirty seconds, transforming it into lighter-weight commando mortar.

Development of the new mortar began in October 2017 at Rheinmetall Waffe Munition. Rheinmetall's objective was to augment the Group's versatile family of 60mm ammunition and existing Rheinmetall Electronics fire control technology with a matching, future-oriented weapon system. Right from the start, development work, therefore, focused on low weight, speed and ergonomics.

The RSG60 has repeatedly undergone successful test firing.
---
bug2

-

15-8-2019 at 11:15 PM





Rheinmetall Waffe Munition has developed the new RSG60 60 mm mortar for infantry and special forces. Source: Rheinmetall
---
bug2

-

16-8-2019 at 09:18 AM



TADTE 2019: Taiwan advances Mobile Mortar System development

Kelvin Wong, Taipei - Jane's International Defence Review

15 August 2019



The Taiwanese MND Materiel Production Center's 202nd Arsenal has incorporated a range of enhancements to its 81/120 mm Mobile Mortar System. It is expected to enter initial operational training and evaluation imminently. Source: IHS Markit/Kelvin Wong

The Taiwanese Ministry of National Defense's (MND's) Materiel Production Center (MPC) took the opportunity at the 2019 Taipei Aerospace & Defense Technology Exhibition (TADTE), which is being held in Taipei from 15 to 17 August, to unveil an updated version of the 81/120 mm Mobile Mortar System (MMS).

The MMS is a self-contained, electro-mechanical turntable mount that can be armed with an 81 mm or 120 mm smoothbore mortar. The system, which is being developed by the MPC's 202nd Arsenal to meet a potential self-propelled mortar system requirement from the Republic of China Army (RoCA), features a specially designed hydraulic buffer assembly capable of attenuating recoil loads by up to a claimed reduction of 70%.

(139 of 757 words)
---
bug2

-

19-8-2019 at 08:38 PM



Poland orders support vehicles for Rak mortars

Remigiusz Wilk, Warsaw - Jane's Defence Weekly

16 August 2019

The Polish Armament Inspectorate signed a PLN129 million (USD32.8 million) contract with Huta Stalowa Wola (HSW) on 13 August for the delivery of 24 Artyleryjski Wóz Amunicyjny (AWA) ammunition supply vehicles for Rak M120 self-propelled mortar companies in 2019–20.



The Polish Armament Inspectorate signed a PLN129 million contract with HSW on 13 August for the delivery of 24 AWAs for Rak M120 self-propelled mortar companies in 2019-20. (HSW)

"I hope that in the third quarter of this year another contract will be signed ordering more Rak mortars," Minister of National Defence Mariusz Błaszczak announced at the contract-signing ceremony.

The AWA vehicle is based on the Jelcz 882.52 8×8 chassis, featuring a STANAG 4569 level-1 two-man armoured cabin and platform-equipped with six pallets for 120 mm mortar ammunition.

A Rak company comprises eight M120 Rak mortars, four Artyleryjski Wóz Dowodzenia (AWD) artillery command vehicles, two Artyleryjski Wóz Rozpoznania (AWR) artillery reconnaissance vehicles, three ammunition supply vehicles, one Artyleryjski Wóz Remontu Uzbrojenia (AWRU) artillery repair vehicle, and one Ciężki Kołowy Pojazd Ewakuacji I Ratownictwa Technicznego (CKPEiRT) recovery vehicle.

(171 of 315 words)
---
bug2

-

21-8-2019 at 09:19 AM



More on this...…………

Taiwan unveils new mortar carrier based on CM-32 8x8 armored vehicle

Posted On Tuesday, 20 August 2019 15:11

During the TADTE 2019, defense exhibition in Taiwan, a new wheeled mortar carrier armored vehicle based on the CM-32 Could Leopard was unveiled by the Taiwanese defense industry. The vehicle seems to be fitted with a semi-automatic 81mm mortar system.



New Taiwanese mortar carrier armored vehicle based on CM-32 8x8 wheeled APC. (Picture source Twitter)

The CM-32 is an 8x8 armored vehicle fully developed and design in Taiwan by the Taiwanese Ministry of National Defense's (MND's) Materiel Production Center. The mortar variant of the CM-32 family is divided in three main compartments, the engine compartment at the front with the driver on the left side, the crew in the middle and a cargo area at the rear that includes the 81mm mortar system.

The armor of the CM-32 provides protection against firing of small arms of 7.62mm AP caliber all-around the vehicle and 12.7mm AP at the front. The CM-32 vehicle features an integrated, V-shaped, monocoque armored hull structure.

The mortar carrier variant of the CM-32 has a semi-automatic 81mm mortar system mounted inside of the vehicle that can fired through a two-part opening in the roof. The mortar unit is equipped with electro-servo control system and advance firing control modules. It features automatic fire control and fire direction functions. In addition, the low recoil mechanism reduces recoil force effectively and enhance firing stability.

For its self-protection, the mortar vehicle is fitted with a remotely controlled weapon station which is mounted on the roof hull, back of the driver position. This weapon station is armed with a 7.62mmm machine gun.

The CM-32 is motorized with Caterpillar C12 diesel engine developing 450 hp. it can run at a maximum road speed of 120 km/h with a maximum cruising range of 800 km.
---
bug2

-

31-8-2019 at 09:29 AM



South Korea completes development of upgraded 81 mm mortar system

Gabriel Dominguez, London - Jane's Defence Weekly

30 August 2019

South Korea has completed development of an upgraded 81 mm mortar system, according to a 29 August statement by the country's Defence Acquisition Programme Administration (DAPA).



South Korea has completed development of an upgraded 81 mm mortar system. (DAPA)

Referred to as the '81 mm mortar-II', the weapon, development of which began in December 2014 and was led by South Korean company Hyundai WIA, has successfully met all the requirements set by the South Korean military.

DAPA said that compared with its previous version, the new system, which is fitted with "state-of the-art digital technologies", is not only 20% lighter, thus enabling greater mobility, but also requires fewer personnel (four instead of five) to operate.

(126 of 181 words)
---
bug2

-

4-9-2019 at 11:23 AM



MSPO 2019: HSW RAK 120mm mortar system mounted on tracked chassis

Posted On Tuesday, 03 September 2019 20:12

The Polish Company HSW showcases new solution of mobile 120mm mortar artillery system RAK mounted on tracked chassis. The RAK mortar system is already in service with the Polish army mounted on the ROSOMAK 8x8 wheeled armored vehicle. The 120mm RAK mortar can conduct indirect, semi-direct and direct fire against mechanized units, command posts, command-observation points and fortifications.



HWS RAK 120mm mortar system mounted on tracked chassis at MSPO 2019, International Defense Industry Exhibition in Kielce, Poland. (Picture source Army Recognition)

The 120mm RAK mortar turret is fully autonomous which was achieved thanks to the use of modern tracked chassis with hydro-pneumatic suspension in combination with TOPAZ integrated communications, command, and fire control system (C4I), which enables automatic cooperation with external, C4I-compliant command and fire control systems. The reliable operation of the mortar is ensured by the TALIN 5000 and GPS with SAASM module inert navigation system with an odometer and the ballistic computer which displays the current tactical situation on the screen.

One of the most crucial and innovative solutions incorporated into the mortar are the automatic aiming systems and the automatic loading system that is operable regardless of the turret's current angle. This new mobile artillery system uses a 120mm caliber barrel mounted on a turret which has a traverse of 360° and elevation from -3° to +80°. The mortar has a firing rate of 6 to 8 rounds per minute with a maximum firing range of 10 km. The mortar artillery system is fitted with a rotary magazine with an automatic loading system that contains 20 rounds. Additional ammunition can be carried in a magazine located in the chassis.

The 120mm RAK mortar system mounted on a tracked chassis has a crew of three including the driver and two operators in the turret. The vehicle can be ready to be in action for firing operations in maximum of 30 seconds and leave the position in less than 15 seconds.

The HSW 120mm mortar system on tracked chassis with hydro-pneumatic suspension ensures reliability and high mobility of the vehicle while maintaining the highest operating ergonomics parameters and crew safety standards. The hydro-pneumatic suspension used causes faster mortar stabilization after firing.
---
unicorn

-

4-9-2019 at 01:04 PM



To the best of my knowledge, none of the ADFs mortars are vehicle mounted are they?

Not even mounted in the back of an APC?
---
bug2

-

10-9-2019 at 01:39 PM



Supacat's Advanced Off-Road Platforms – Mobile Fires, Autonomous Hybrid Vehicle

By Tamir Eshel - Sep 9, 2019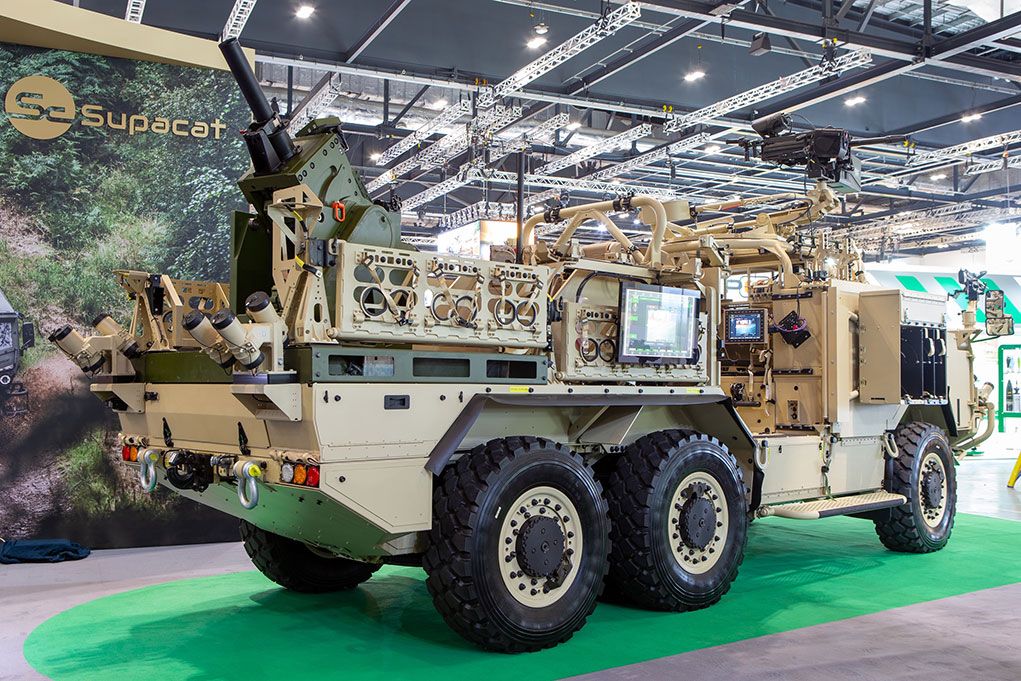 Supacat, Rheinmetall Defence and SCISYS have partnered to showcase at DSEI 2019 the 'High Mobility Integrated Fires Capability'. A mobile fire support capability for light forces, the partnership demonstrates the system on a Supacat's 6×6 HMT platform mounted with Rheinmetall's MWS81 mortar system.

The target acquisition and integrated fire support platform is networked with SCISYS GVA compliant platform and mission software.

The weapon benefits from the superior off-road performance of the HMT, which allow users to conduct high tempo operations and deliver indirect fire from off-road firing positions. The vehicle on display is Supacat's HMT Extenda Mk2 Special Forces vehicle, which is made its show debut at the show.

The MWS81 mortar, used here for its first integration on a light vehicle, allows for rapid entry into firing position. The system integrates the Vingmate sight, providing target acquisition, and self-location during day and night, with targets being shared over the battlespace data network enabling Support Weapon effects to be directed precisely onto targets.

The SCISYS developed GVA compliant platform and mission software shares data and video around the platform to each crew member's display and into the battlespace networks, enhancing shared situational awareness and speed of decision making. The displays are supplied by Leonardo. "This enhanced capability is a first for light forces and offers a solution to a number of potential requirements among the green army and Special Forces", said Phil Applegarth, Head of Supacat.

EDITED...……….
---
bug2

-

11-9-2019 at 07:47 PM



DSEI 2019: EXPAL launches new mortar aiming and safety systems

Charles Forrester, London - Jane's International Defence Review

11 September 2019



The E-COMPAX mortar aiming system at the DSEI 2019 exhibition. Source: IHS Markit/Patrick Allen

Spain's EXPAL Systems unveiled two new mortar components at the DSEI show on 10 September.

The E-COMPAX electronic mortar aiming system provides orientation and elevation aiming giving mortar teams fast and accurate fire support.

According to EXPAL Systems product manager Jose Maria Fajardo, development of the system started two years ago. The company is marketing the system across potential users in Europe, with testing being undertaken by the company and by potential European users.

The E-COMPAX combines inertial AMENS gyroscopes and accelerometers, alongside a fluxgate electronic compass and a video camera, with potential night-vision image intensifiers also a possibility for development.

During the systems' orientation phase, it takes 10 seconds to find north ahead before mounting on the bipod, with targeting data entered via a keyboard or tablet, or from a centralised fire-control system. The operator adjusts the mortar using existing cranking handles. Using the E-COMPAX, total aiming time for a mortar is reduced to less than 30 seconds. Adjustments to a mortar's aim after each firing are reduced to less than 5 seconds.

"The benefit of this system is that it greatly reduces the time to fire, improves accuracy, and reduces the amount of stress on the crew," Fajardo said.

The E-COMPAX is platform agnostic, and can be integrated onto any 60 mm, 80/81 mm, and 120 mm mortar tubes, being anchored to the mortar bipod on a NATO-standard mounting dovetail. The system is designed to replace a standard basic optical sight system.

EXPAL Systems also unveiled the new M-COUNTER system to monitor mortar tube performance for maintenance and safety. The M-COUNTER sensor is mounted on a bracket around the mortar tube, and records information for engineering support staff including date of firing, rate of fire, and number of bombs fired.

(316 of 426 words)
---
bug2

-

11-9-2019 at 10:57 PM



Finding Nemo [DSEI19D2]

CHRISTOPHER F FOSS

11 September 2019




For the first time, Finnish company Patria (Stand N6-160) is showing its latest Armoured Wheeled Vehicle (AWV) fitted with the 120mm Nemo turret mortar system. The AWV (6x6) has been developed by the company as a private venture and pulls through from its Armoured Modular Vehicle (8x8), which has been built in large numbers for domestic customers and an increasing number of export customers.

The AWV has a drive with powered steering on the front four wheels; steering can also be added as an option for the last road wheel station either side. A further option is an amphibious capability.

The first customer for the Nemo turret mortar system is the Saudi Arabian National Guard, which has fitted it to a batch of its General Dynamics Land Systems Canada Light Armoured Vehicles (8x8), while the United Arab Emirates has fitted it to some coastal craft.

The 120mm Nemo features a high rate of fire and can perform a multiple-round simultaneous-impact fire mission, in which five 120mm mortar bombs impact the target at the same time for maximum effect.

Patria is also expanding into other areas. Here at DSEI it is showing CANDL, a compact datalink for air-to-air and air-to-ground applications, and the ARIS remote electronic intelligence system used to intercept, identify, record and analyse radar systems. A further development of this is ARIS-E, which provides automatic identification, real-time geolocation and tracking of radars on the battlefield.

Other systems being highlighted by Patria are the MUSCL passive radar system, and TADS, a tactical debriefing system that provides instant debriefing of military missions and training exercises.

(264 words)
---
bug2

-

13-9-2019 at 04:39 PM



Shoot and scoot: Industry answers call for more mobile firepower

By: Jen Judson   14 hours ago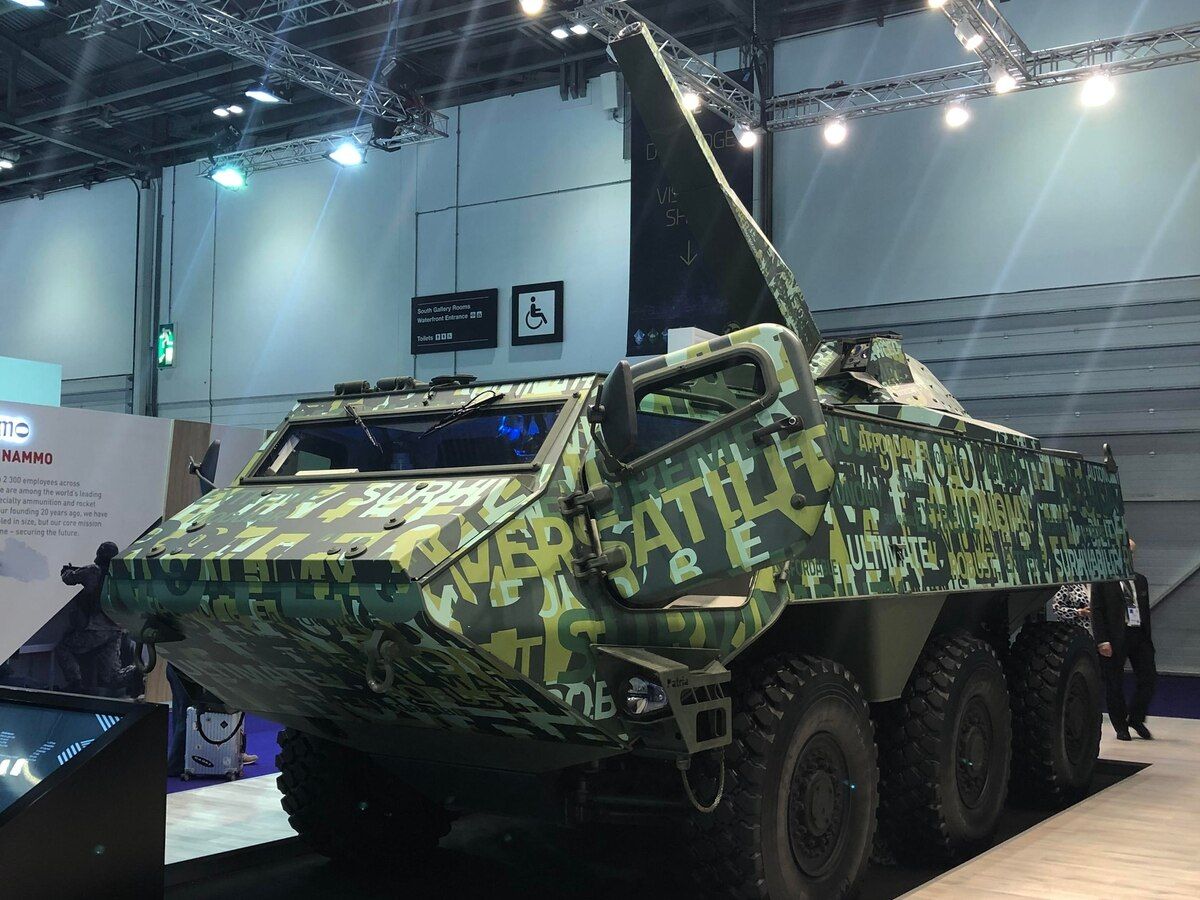 Finnish company Patria brought its armored wheeled vehicle with the 120mm mortar system it calls Nemo to DSEI in London in 2019. (Photo by Jen Judson/Staff)

LONDON — As the U.S. military and its European allies look to counter Russian capabilities observed against Ukraine in Crimea, countries are looking to move away from towed artillery systems to highly mobile mortar systems that pack a punch at greater range.

The exposition floor at DSEI, a large defense trade show in London, was littered with examples of mobile mortar systems that are answering the call.

"We're seeing the emergence of mobile mortars now due to changing threats and environments," James Tinsley, a managing director at Avascent, told Defense News at the show.
"Where U.S. and allied operations in Afghanistan and Iraq used largely static mortar and artillery emplacements at Forward Operating Bases, these sites are easily fixed, targeted and destroyed by more advanced conventional adversaries," Tinsley said. "Those adversaries use unmanned aerial vehicles, electronic intelligence and counter-battery radars to quickly target and counter-fire on vulnerable artillery positions."

Militaries have increased their focus on mobile artillery solutions, as a result, Tinsley said, to include self-propelled howitzer being recapitalized with new systems like the Paladin M1299 Extended Range Cannon Artillery, Hanwha's K9, BAE Systems' Archer 155mm howitzer to name a few. And there's an effort to extend the range of rounds like the Nammo ramjet capability.

Hammer of Thor

BAE Systems showcased its CV90 Mjölner variant — Hammer of Thor — with a 120mm mortar system, which is about to be delivered to the Swedish Army after completing qualifications.

The company is seeing a genuine requirement from customers because they are seeing the threat and so the company believes its system fits the bill due to its simplicity for the operator.

Swedish Armed Forces Colour Sergeant Joakim Kylstad, a development officer at the Land Warfare Centre, said the system brings an increase in mobility and speed of firing and it can keep up with main battle tanks. The ability to shoot and move out of the way before an enemy can detect and return fire is critical, he added.

And the 120mm's firepower and range are more effective than an 81mm mortar, Kylstad said.

While this variant was specifically designed for the Swedish Army, there are a number of other countries interested in the platform, Dan Lindell, BAE Systems' director of combat vehicles in Sweden, said.

The company has sent information on both the Mjölner variant and an advanced mortar system to the United States, but the two have very different price points, Lindell noted.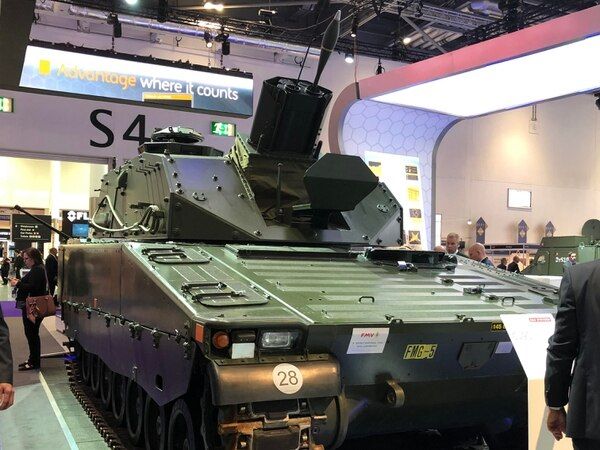 BAE Systems CV90 Hammer of Thor variant for the Swedish Armed Forces with a 120mm mortar system. (Photo by Jen Judson/Staff)

The vehicle was delivered in record time to the Swedes. BAE fired the first shot from the variant just two-and-a-half months after signing a contract in December two years ago.

BAE also brought its Archer system on an 8x8 truck. The system carries 21 rounds and can be fired in two-and-a-half minutes.

Also packing a punch, Finnish defense company Patria displayed a 120mm Nemo turret on its 6x6 armored wheeled vehicle.

While not integrated onto a vehicle at the show, German defense company Rheinmetall brought its 120mm Ragnarok mortar combat system intended for integration into combat vehicles.

Downsizing

But even smaller vehicles came to the show with mortar systems highlighting easy setup and high mobility.

AM General's booth had one vehicle - a HMMWV with a Hawkeye 105mm mobile weapon system using a standard M20 cannon installed with a soft recoil capability.

The company has been working with Mandus Group on refining and integrating the Hawkeye system to the humvee. The only parts different from what is already in the U.S. Army inventory is the gun system's cradle and the recoil mechanism, Nguyen Trinh, company executive vice president of International Defense, told Defense News.



AM General's vehicle at its booth was a humvee with the Hawkeye 105mm mortar system which uses a soft recoil in order to rapidly fire rounds and move before enemy detection. (Photo by Jen Judson/Staff)

The 105mm system can be found on Korean and South African vehicles, but it's installed on huge 6x6 trucks. Yet, AM General installed the gun without making any modifications to the humvee besides adding stabilizer legs to adjust to uneven ground.

In a recent demonstration, an experienced artillery crew at Fort Campbell, Kentucky, showed the benefits of a system installed on a humvee versus a towed M119.

Compared to the four minutes and 41 seconds an artillery crew of seven took to set up and first fire the system, the four person crew using the HMMWV Hawkeye system fired its first shot in one minute and 54 seconds after spending a day-and-a-half training to use it, Trinh said. In emergency situations, a two-person crew can set up and deploy the weapon.

Additionally, the system can fire 24 rounds within three minutes from the time the vehicle stops, and by the time a counter-battery radar has time to find the system, it's already moving to its next firing position, he added.

And towed-artillery crews can normally only break down and set up the system several times before it becomes physically exhausting. But the mobility and ease of use of the Hawkeye humvee system means the crew can keep going longer.

The AM General system can also shoot in 360 degrees and is the only company worldwide with this capability. The rest of the systems out there can shoot in a forward-facing "wedge."

One of the U.S. Army's priorities is to increase protective mobile fire capability because of the threats observed by Russia on the battlefield in Ukraine, and the Army is evaluating systems including AM General's system.

"Mobile, self-protected howitzers we believe are the future, not only in the Army but internationally," Trinh said.

Ditching towed systems

The U.S. Army has recently completed an Army Requirements Oversight Council review on mobile, self-propelled artillery and language on the way forward is expected soon.

The United Kingdom is also looking at the same thing seriously and has requirements for a 155mm system.

But "I would say any country that has towed systems today and that really understands the survivability challenges of towed systems are looking in general terms at self-propelled systems," Trinh noted.

While not at the show, the company also has a 155mm system called Brutus on an FMTV chassis.

The system doesn't just have to go on a humvee or FMTV either, Trinh said, but any vehicle in a country's inventory.

Also taking up less of a footprint was British company Supacat's High Mobility Integrated Fires Capability with an 81mm mortar system on the back.

The U.S. Army has several programs that increase the mobility of 120mm mortar systems from the Future Indirect Fire Turret (FIFT) program, the Armored Multipurpose Vehicle (AMPV) and work within the Next-Generation Combat Vehicle program.

Several options are being demonstrated to the Army with Stryker for the FIFT program, with a target of installing on AMPV or the future Optionally Manned Fighting Vehicle.

"Mortars offer significant firepower in lighter weight systems than self propelled howitzers, albeit at lower ranges. But they are a highly effective complement to other systems," Tinsley noted.

Most self-propelled mortars today are mounted in the hull of vehicles like AMPV or the Stryker combat vehicle. "These can be effective but they are slower to bring to bear, have an open roof, which is vulnerable to counter-fire and require a heavier vehicle to handle recoil or an expensive and complex recoil system," Tinsley said.

So turret-mounted systems are "coming into vogue now," he said. "They offer high rates of fire, maintain crew protection and tightly integrate fire control or indirect and direct fire missions. Some have automatic loaders and other automation to drive even higher rates of fire."

The Army was moving in this direction back in the days of Future Combat Systems, but the program was cancelled with the rest of the program.

The international market has been developing and adopting these systems more quickly, according to Tinsley, and it's likely that the providers with wares to show at DSEI are leading candidates for some of the things the U.S. Army is looking for, but will likely require U.S. production partners and integrators, according to Tinsley.
---
bug2

-

16-9-2019 at 09:20 AM



The NEMO 120mm mortar turret on an AMV armoured vehicle is being demonstrated at Fort Benning...………..I would presume the interest is in the mortar rather than the vehicle?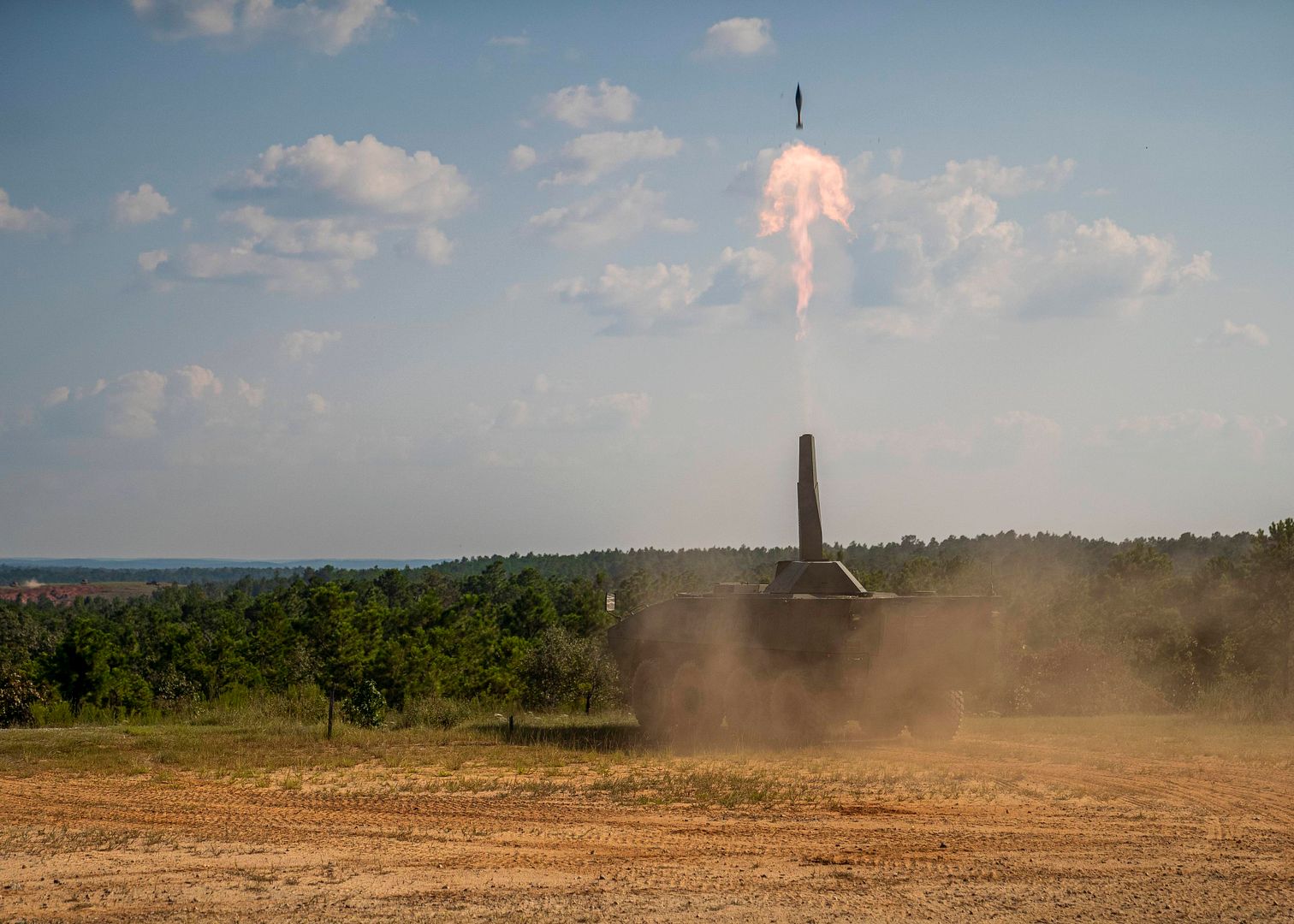 https://www.fortbenningphotos.com/Maneuver-Center/Warfighter...
---
bug2

-

20-9-2019 at 11:11 PM



Aselsan rolls out Alkar 81 mm mortar

Christopher F Foss, London - Jane's International Defence Review

20 September 2019

Turkish company Aselsan has completed development of its latest Alkar 81 mm mortar weapon system (MWS) using internal research and development funding. The company said production can begin as soon as orders are placed.

The Alkar 81 mm MWS leverages on experience gained from the development of the earlier Alkar 120 mm rifled MWS, which is already in service with the Turkish Gendarmerie, integrated into the rear of the locally produced 4×4 BMC Vuran mine-resistant ambush-protected (MRAP) vehicle.



Aselsan's Alkar 81 mm mortar weapon system is turntable-mounted and can be rapidly laid on to the target. (Christopher F Foss)

The mortar system has an overall footprint of 1.85×0.85×1.02 m and can be installed on armoured and soft-skinned platforms. It was integrated onto the rear of an unarmoured long-wheelbase 4×4 Land Rover Defender for trials, although comparable platforms such as the 4×4 Toyota Land Cruiser could also be used.

The system comprises the automatic barrel laying system (ABLS), recoil mechanism, and computerised fire-control system (FCS). It is fitted with an 81 mm smoothbore mortar barrel with a length of 1.6 m, with a minimum range of 100 m and a maximum range of 6,400 m depending on the projectile/charge combination.

The turntable-mounted 81 mm mortar features an electrically powered traverse of 180° in azimuth with elevation limits from 45° to 85°. It can be traversed manually if power fails.

According to Aselsan, the system can come into action and fire its first 81 mm mortar bomb within one minute and can come out of action within 10 seconds to escape counter-battery fire.

The FCS enables it to be rapidly laid onto the target with ballistic calculations being carried out using the NATO Armaments Ballistics Kernel (NABK) software. Its integral recoil system provides enough stability to the host platform that external stabilisers are not required.

(306 of 523 words)
---
bug2

-

28-9-2019 at 01:07 PM



Ukrainian forces receive Bars-8MMK mortar vehicles

Samuel Cranny-Evans, London - Jane's Defence Weekly

27 September 2019



The Bars-8MMK is designed to be used by special forces and infantry. Source: Everis/NTGS

Ukrainian forces have received their first Bars-8MMK (mobile mortar complex) vehicles from Ukroboronservice, Ukroboronprom announced on its website on 25 September.

The defence conglomerate said Ukroboronservice had successfully completed acceptance tests with the vehicle, covering tactical and technical characteristics, as well as firing trials, with a Ukrainian military unit.

It added that the mortars are built using NATO-compatible components within the framework of Ukraine's 2017 state defence order, which aims to modernise the Ukrainian armed forces.

The system utilises the Alakran mortar system from NTGS. It is armed with a 120 mm smoothbore mortar supplied by Ukraine, and the Alakran mount enables it to be deployed and ready to fire within 35 seconds, according to Ukroboronservice.

(140 of 288 words)
---
bug2

-

28-9-2019 at 02:37 PM



BARS-8MMK 120mm mobile mortar system in service with Ukrainian army

Posted On Friday, 27 September 2019 14:16

Ukroboronprom, the Ukrainian state defense agency has completed the delivery of 120mm self-propelled mortar system BARS-8MMK to the Ukrainian army who has performed the first firing tests. The BARS-8MMK is a new mobile self-propelled mortar vehicle using the chassis of the BARS-8 4x4 wheeled armored vehicle.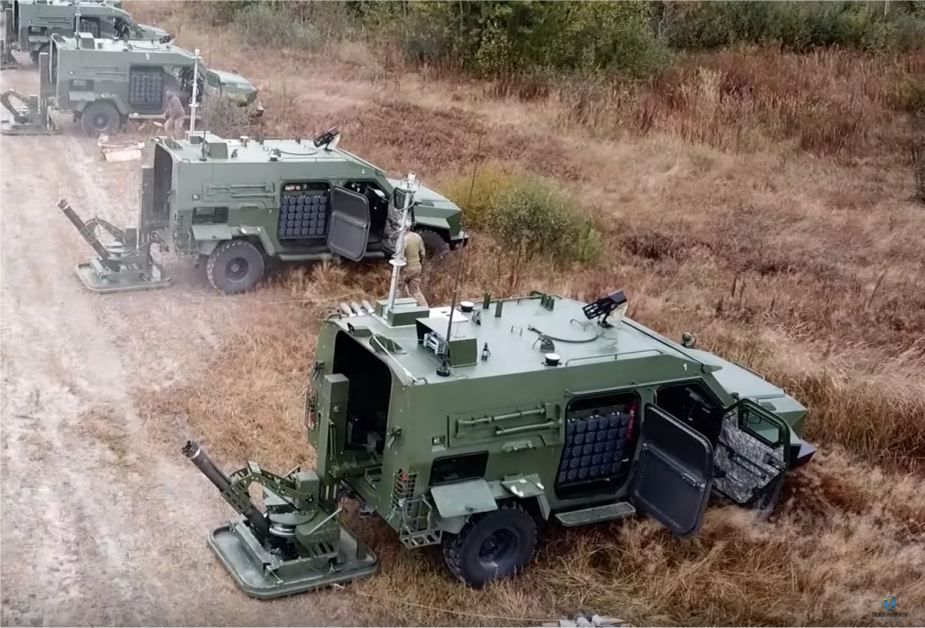 BARS-8MMk 120mm self-propelled mortar carrier during firing tests by the Ukrainian army. (Picture source Ukroboronprom video footage)

The BARS-8MMK carries a 120 mortar which can be deployed automatically at the rear of the vehicle to perform firing operations. It takes only 30 seconds to bring this artillery system in firing condition, and the vehicle is able to leave the firing position in less than 20 seconds.

The BARS-8MMK has a crew of three and can carry up to 60 mortar ammunition. The vehicle is equipped with an integrated Fire Control system, which can be operated either from inside the cab or by a mortar team member standing alongside the vehicle. It has a maximum firing range of 8,000 meters and a rate of fire of 12 rounds/min.

The BARS-8 is a 4x4 armored vehicle designed and manufactured by the Ukrainian Company Bogdan. The vehicle is built on the Dodge Ram pick-up truck's 4×4 wheeled chassis. It has a gross vehicle weight of 10,000 kg and a payload capacity of 2,000 kg.

The BARS-8 offers protection against firing of small arms and artillery shell splinters up to Level 2 STANAG 4569. The vehicle is motorized with a 6.7l Cummins V8 turbo diesel engine developing 350 hp. coupled to an Allison six-speed automatic or manual transmission system.

The BARS-8 can run at a maximum road speed of 120 km/h and has a fording depth of 0.76 m. It can climb a gradient of 60% and negotiate side slopes ranging from 20% to 40%.
---
bug2

-

14-10-2019 at 10:50 AM



Rheinmetall expands 120 mm mortar capability

Christopher F Foss, London - Jane's International Defence Review

11 October 2019

Rheinmetall Norway has developed to the prototype stage its MWS 120 Ragnarok 120 mm turntable mounted mortar system.

According to Gunnar Andersson, director of sales and business development at Rheinmetall Norway AS, "we have already carried out successful firing trials in Sweden".

The weapon, developed with internal funding, is designed for potential German and export customers. It is currently at Technology Readiness Level 7 (TRL 7) as 80% of the components are common with the in-service 81 mm system, called MWS 81, which is already deployed by the Norwegian Army.



The turntable-mounted Rheinmetall Norway MWS 120 Ragnarok mortar as it would be deployed in the firing position in an armoured fighting vehicle. (Rheinmetall)

The first example is fitted with a 120 mm smoothbore barrel but could also take a 120 mm rifled barrel if required by the user.

(115 of 618 words)
---
Pages: 1 2