Pages: 1 2

bug2

-

13-11-2019 at 09:47 PM



Leonardo Helicopters upbeat on AW159 sales prospects

13 November, 2019 SOURCE: FlightGlobal.com BY: Dominic Perry London

Leonardo Helicopters is maintaining its belief in the AW159 Wildcat, despite a barren sales period that has seen its backlog for the platform dwindle to zero.

This week, the manufacturer celebrated the 10th anniversary of the Wildcat's 12 November 2009 first flight. However, with deliveries to the UK and export customers exhausted, there are no new examples of the medium-class helicopter in production.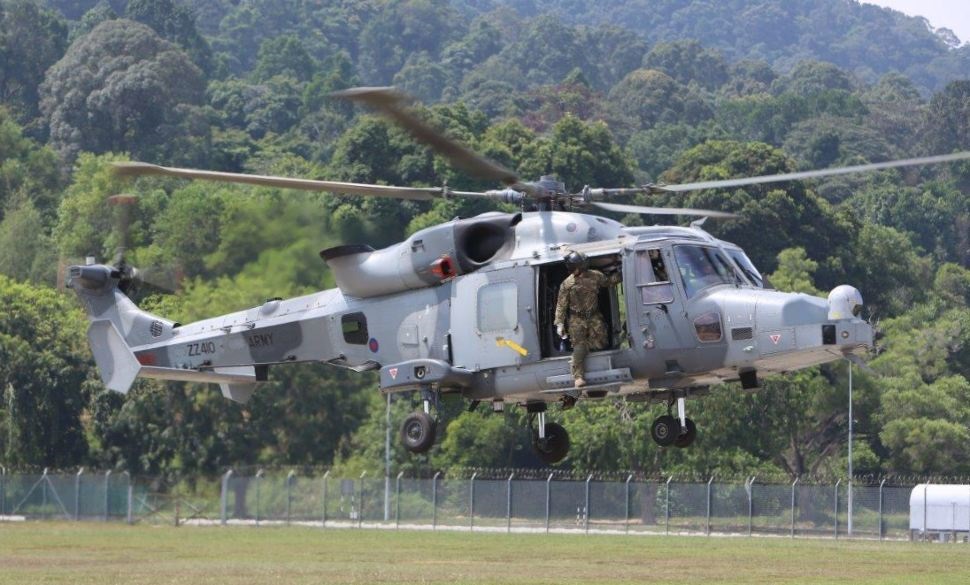 Leonardo Helicopters

Originally designed for the British Army and Royal Navy (RN) under the Future Lynx requirement, the services operate 32 and 28 examples of their respective AH1 and HMA2 variants.

Additionally, the AW159 secured export orders from the navies of the Philippines and South Korea for a combined 10 helicopters. The last of these was delivered in May 2019.

However, Nick Whitney, the company's director of UK sales and export campaigns, says there are a "number of opportunities in the works". If these are concluded, they would "not just fill the hopper but make the hopper really heavy", he adds.

"We have to win them to fill that hopper, but I think the capability offered by the Wildcat is quite unique," Whitney says. He cites the type's "fifth-generation" avionics and sensor suite, as well as the platform's compact size.

Whitney declines to name potential customers beyond the already-acknowledged target of South Korea, which has a follow-on requirement for 12 anti-submarine warfare helicopters. Seoul is choosing between the AW159 and Sikorsky's MH-60R Seahawk, with a decision expected in 2020.

Including South Korea, Whitney believes there are "very easily" opportunities for "30-plus" aircraft, notably among the existing pool of legacy Lynx operators.

Although the Yeovil, UK facility that builds the Wildcat remains busy with other work – notably on the AW101 – Whitney acknowledges that a lengthy production gap will eventually become a problem.

"If we are not successful we cannot go on marketing forever something that we cannot sell," he says. However, he notes: "Time is on our side at the moment."

Meanwhile, Leonardo Helicopters continues test flights of a new weapons wing for the AW159, enabling the RN's HMA2 fleet to carry MBDA Sea Venom anti-ship and Thales Defence Martlet air-to-surface missiles.

The wing "has been flown in every configuration", including with the navy's legacy depth charges and torpedoes, says Matthew Boucher, Leonardo Helicopters' head of AW159 and Lynx programmes.

First firing of a Martlet missile is due "in the next couple of months", says Boucher. Initial operational capability is scheduled for October 2020, with the Sea Venom following a year later.

Boucher is also confident that Leonardo's domestic customer will eventually look to upgrade its fleet with technologies incorporated into export aircraft, such as the Thales Flash dipping sonar and a digital automatic flight-control system.

"We are hopeful that the UK Ministry of Defence would look to upgrade with the enhanced capabilities we have got on the international market," he says.
---
bug2

-

13-11-2019 at 09:51 PM



It's a dead cert for 4-6 aircraft for the Philippine Navy in the next 2-3 years.

Personally, I think they'll get a Korean follow-on contract.

Ditto, for Malaysia and possibly the Thai Navy?

The Kiwis should have bought AW159 WILDCAT rather than more Sea Shytes………….more than one or two in the Navy wanted it...………..

---
bug2

-

28-11-2019 at 09:00 PM



German Navy delays NH90 Sea Lion flight operations

Nicholas Fiorenza, London - Jane's Defence Weekly

27 November 2019



The German Navy will not begin flight operations with its new NH90 Sea Lion helicopter for the time being because it does not meet the necessary safety and quality standards, the Bundeswehr has announced. Source: IHS Markit/Nicholas Fiorenza

The German Navy will not begin flight operations with its new NH90 Sea Lion helicopter for the time being because it does not meet the necessary safety and quality standards, the Bundeswehr announced in a press release on 27 November.

"We are generally convinced of the capabilities of the NH90 Sea Lion helicopter," the Bundeswehr stated, "but because of inadequate and incomplete technical documentation, it would not be responsible at the present time for flight operations to be conducted by the women and men of the navy." The service has therefore decided not to begin training flights this year.

"The manufacturer has agreed to rectify the still significant errors in the documentation as quickly as possible," the Bundeswehr said. Airbus Helicopters told Jane's on 27 November, "The issues mentioned by the ministry have been known for some time and we are already working with all partners involved to fix them in a timely manner."

The Bundeswehr did not foresee the delay having any impact on the Sea Lion becoming fully operational in 2023, as planned, nor on the German Navy's ability to fulfil its tasks.

The service said the delivery of the first Sea Lion to the Bundesamt für Ausrüstung, Informationstechnik und Nutzung der Bundeswehr (BAAINBw), Germany's Federal Office of Bundeswehr Equipment, Information Technology and In-Service Support, on 24 October was necessary and made sense so as to be able to examine, along with the German Navy, if all requirements had been met so that flight operations could be started soon.

After the helicopter was transferred to its home base in Nordholz, northern Germany, the interactive electronic technical documentation for the system's operation, maintenance, and repair was used for maintenance and checked in detail, said the Bundeswehr, reporting that 150 major anomalies were found that would prevent safe flight operations.

(325 of 442 words)
---
bug2

-

8-1-2020 at 12:11 PM



Poland to float Seasprite replacement plan

By Bartosz Glowacki7 January 2020

Warsaw intends to buy between four and eight new helicopters to replace its navy's Kaman SH-2G Super Seasprite maritime rotorcraft, which are to be withdrawn from use due to a lack of technical support.

Cirium fleets data shows that the Polish navy has an active fleet of four SH-2Gs, each aged at almost 30 years.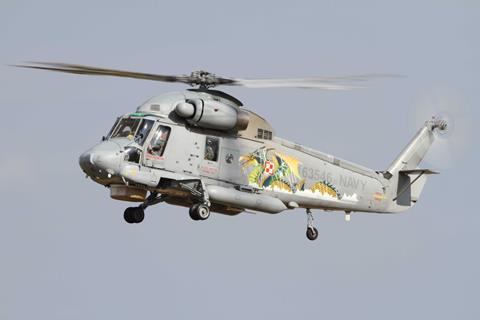 Source: Bartosz Glowacki

The Polish defence ministry's armaments inspectorate will conduct a technical dialogue process between May and July 2020, seeking information to support a multi-purpose naval helicopter contest, named Kondor. This activity will include assessing requirements for the aircraft's weapon, communication, navigation, electronic warfare and survivability systems, and estimating programme costs.

Warsaw's requirement will be for an anti-submarine warfare rotorcraft with a maximum take-off weight of less than 6,500kg (14,300lb), with candidates likely to include Leonardo Helicopters' AW159 and a version of the W-3 Sokol produced by the same company's PZL Swidnik subsidiary.
---
bug2

-

13-1-2020 at 09:08 PM



South Korea resumes operations on AW159 naval helicopters

Ridzwan Rahmat, Singapore - Jane's Navy International

13 January 2020

The Republic of Korea Navy (RoKN) has resumed operations on seven of its eight AW159 naval helicopters.

The entire fleet of anti-submarine warfare (ASW)-capable aircraft was grounded in November 2019 as a precautionary measure after abnormal vibrations were detected in one of the helicopters during a routine patrol operation, said a RoKN representative in an email reply to Jane's on 11 January.

These vibrations have since been narrowed down to a faulty rotor vibration damper on the affected aircraft. The remaining seven helicopters were not affected by the fault, and were cleared to resume normal operations progressively since 3 January, the service added.

(103 of 321 words)
---
bug2

-

22-1-2020 at 09:01 PM



22 January 2020 News

Telephonics demonstrates MOSAIC radar system on US Navy helicopter

Griffon's wholly-owned subsidiary Telephonics has demonstrated its MOSAIC Active Electronically Scanned Array (AESA) radar system on a US Navy MH-60S Seahawk multi-mission helicopter.

During flight demonstrations conducted over the Mid-Atlantic region, Telephonics showcased AESA's discriminating capabilities including Autonomous Anti-Surface Warfare radar operations and true dual beam technology for the first time.

H-60 Multi-Mission Helicopters (PMA-299) programme manager Todd Evans said: "This new generation AESA radar has the potential to provide great benefit to the future vertical lift platform."

The dual-beam technology of Telephonics uses two independent beams from a single radar aperture.

It allows the MOSAIC radar system to perform continuous autonomously scheduled Inverse Synthetic Aperture Radar (ISAR) imaging while conducting surveillance, detection and tracking operations at the same time.

This is expected to reduce the time needed to complete operations related to the recognised maritime picture.

The saved ISAR images are associated with track parametric data used to carry out a review.

Telephonics president Kevin McSweeney said: "We are excited to introduce our MOSAIC AESA system to the marketplace.

"We are known as an innovator in design and development of maritime surveillance systems, and with the numerous advanced modes developed exclusively for this radar, we believe we have a solution that exceeds current AESA capabilities."

In September last year, the US Navy's Naval Air Systems Command (NAVAIR) delivered the first two redesigned MH-60S Seahawk gunner seats to the fleet.

During August, Telephonics secured a contract to supply its AN/UPX-44 Identification Friend or Foe (IFF) system in support of the Republic of Korea (ROK) naval modernisation programmes.
---
bug2

-

12-2-2020 at 11:10 AM



India Readying $2.6 Billion US Naval Helicopter Deal Ahead of Trump Trip

(Source: Voice of America News; issued Feb 10, 2020)



During the next two weeks, the Indian cabinet committee on security should approve the purchase of 24 Sikorsky MH-60R Seahawk helicopters for the Indian navy, to allow signature of the order during US President Trump's Feb. 24 visit to India. (US Navy photo)

NEW DELHI --- India is set to give final approval to a $2.6 billion deal for military helicopters from U.S. defense firm Lockheed Martin ahead of a proposed visit by U.S. President Donald Trump this month, defense and industry sources said.

Prime Minister Narendra Modi's government is trying to pull out all the stops for Trump's trip in a bid to reaffirm strategic ties between the two countries, which have been buffeted by sharp differences over trade, to counter China.

India's defense purchases from the United States have reached $17 billion since 2007 as it has pivoted away from traditional supplier Russia, looking to modernize its military and narrow the gap with China.

Modi's cabinet committee on security is expected to clear the purchase of 24 MH-60R Seahawk helicopters for the Indian navy in the next two weeks, a defense official and an industry source briefed on the matter separately told Reuters.

"It's a government-to-government deal, it is close," said the industry source.

To cut short lengthy negotiations between Lockheed and the Indian government, the helicopters that will be deployed on India's warships will be bought through the U.S. foreign military sales route, under which the two governments will agree details of the deal.

Trump is expected in India around Feb 24 on his first official visit to the country, although no formal announcement has yet been made.

Both countries are separately working on a limited trade agreement ahead of the trip, after earlier imposing tit-for-tat tariffs on each other's imports.

Trump has called India the "tariff king of the world" but the Modi government has been trying to address some of his concerns.

Trade officials have pointed to large-scale U.S. arms purchases, from surveillance planes to Apache and Chinook helicopters, as proof of India's willingness to tighten strategic ties.

The multirole helicopters will be equipped with Hellfire missiles and are meant to help the Indian navy track submarines in the Indian Ocean, where China is expanding its presence.

Many of India's warships are without any helicopters because of years of underfunding, and the navy had sought their acquisition as a top priority.

The government outlined only a modest rise in its 2020/21 defense spending to $73.65 billion in the budget on Feb. 1, of which a part will go towards making a down payment on the helicopter purchase, a defense official said.

"We expect a positive announcement soon on the helicopters," the official said, speaking on condition of anonymity because of service rules. "There are limited resources, but there is an allocation."

The U.S. State Department approved the sale of the choppers to India last year along with radars, torpedoes and 10 AGM-114 Hellfire missiles.

The clearance came after the Trump administration rolled out a new "Buy American" plan in 2018 that had relaxed restrictions on sales, saying it would bolster the American defense industry and create jobs at home.

The United States has also offered India the armed version of Guardian drones that were originally authorized for sale as unarmed for surveillance purposes, the first such approval for a country outside the NATO alliance.

India plans to buy 30 of these unmanned aircraft for surveillance of the Indian Ocean, at a cost estimated to be about $2.5 billion, from General Atomics.

However, the defense official said the deal is unlikely immediately because of lack of funds.

-ends-
---
bug2

-

17-2-2020 at 08:26 PM



Singapore Airshow 2020: Indonesia designates final Panther helicopter for anti-submarine operations

Ridzwan Rahmat, Singapore - Jane's Navy International

17 February 2020

The final AS 565MBe Panther helicopter on order for the Indonesian Navy (Tentara Nasional Indonesia - Angkatan Laut: TNI-AL) is one of two aircraft that has been designated as an anti-submarine warfare (ASW) airframe, an industry source close to the matter has confirmed with Jane's .

The helicopter, which is currently undergoing fitting-out at PT Dirgantara's facilities in Bandung, is also the final of 11 Panther helicopters ordered by the Indonesian government in 2014.

The TNI-AL has thus far taken delivery of 10 airframes in the contract. As Jane's reported in June 2019, the service has designated two of the 11 helicopters for anti-submarine operations.

(105 of 381 words)
---
bug2

-

5-3-2020 at 09:29 AM



Norway makes progress with NH90 ASW introduction

By Dominic Perry

5 March 2020

Norway is making progress with the introduction of the NH Industries NH90 NFH maritime helicopter for anti-submarine warfare (ASW) missions, having taken delivery of the first aircraft in August last year.

Although the Royal Norwegian Air Force previously operated the Westland Lynx from its navy's frigate fleet, these were not deployed in an ASW capacity.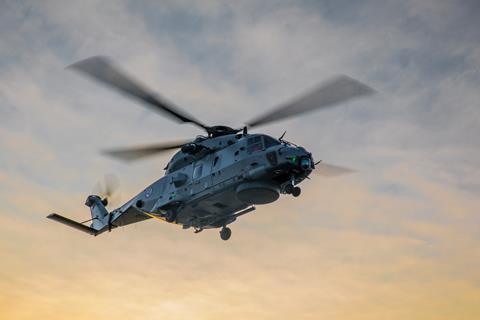 Source: Royal Norwegian Air Force

Lacking experience in such operations, especially use of a dipping sonar, the air force has had to turn to Australia-headquartered Nova Systems to help it deliver the new capability, including the development of tactics, training and processes, says Simon Sparkes, chief operating officer of the company's Norwegian arm.

Nova began working on the €15 million ($16.6 million) contract last month and is providing a team of operators, engineers and software specialists; Sparkes himself is a former UK Royal Navy pilot with 30 years of experience on the Leonardo Helicopters AW101 Merlin and Westland Sea King.

Nova is providing on-site support to the air force at a purpose-built helicopter operating facility at Haakonsvern naval base in Bergen, and its team will also deploy aboard Norway's Fridtjof Nansen-class frigates to deliver direct support for operational development activities.

"It's about accelerating the process of getting those aircraft into service properly and dealing with a very strong threat from the North Cape with the Russians round the corner," says Sparkes.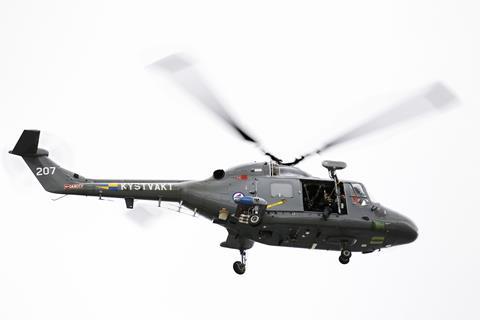 Source: Royal Norwegian Air Force

Operational evaluation of the first aircraft has gone well, without "any major issues or faults", he adds.

"They are happy with the platform and I think it is the right size for their frigates", which "provides a credible capability, particularly given the sensors it has".

An additional five aircraft will follow, with the next airframe due to be handed over in April or May, says Sparkes.

Norway already has a fleet of eight NH90s which it uses for martime search and rescue and territorial water enforcement missions.

Nova has previously helped Norway with the introduction of AW101s for long-range search and rescue missions.
---
bug2

-

6-3-2020 at 10:01 AM



Weapon wing integration keeps Wildcat on target for carrier protection role

By Craig Hoyle, Liverpool5 March 2020

The UK Royal Navy's (RN's) Wildcat HMA2 rotorcraft will be ready to defend the service's largest-ever warships from next year, with the integration of key new armaments proceeding on schedule, Leonardo Helicopters says.

An ongoing effort to add Thales Martlet air-to-surface missiles and MBDA Sea Venom anti-ship weapons has completed environmental testing and carriage trials aboard the 6t-class rotorcraft, following the integration of a Leonardo-designed Wildcat Weapon Wing.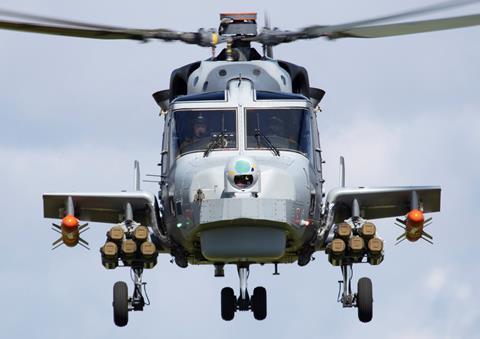 Source: Leonardo Helicopters

Louis Wilson-Chalon, maritime marketing manager for Leonardo Helicopters UK, says the company is on track to have the enhanced Wildcat ready for deployment in support of the RN's first worldwide operational Carrier Strike Group deployment late next year. This "CSG21" activity will involve HMS Queen Elizabeth – the service's first of two 65,000t aircraft carriers, along with support ships and Royal Fleet Auxiliary assets.

"We will be ready to support the fleet," Wilson-Chalon says, confirming that the company has received a production contract to build weapon wings for the navy's Wildcat fleet. Firing trials with the Martlet have yet to be conducted, but the programme is on schedule, he says.

The RN's new carriers will operate with an embarked complement of Lockheed Martin F-35B Lightning combat aircraft and Leonardo AW101 Merlin HM2 multi-mission rotorcraft, including airborne early warning examples being prepared via the Lockheed-led Crowsnest programme. Deployed aboard accompanying Type 45 destroyers and Type 23 frigates, Wildcats will provide anti-surface warfare protection for the carrier group.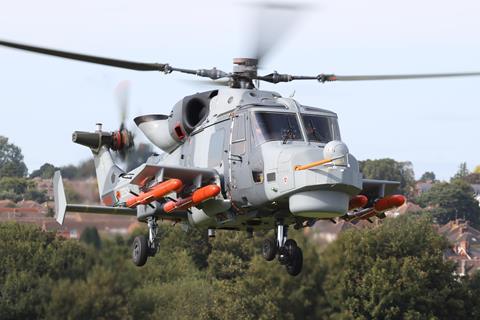 Source: Leonardo Helicopters

Each weapon wing-equipped helicopter will be able to carry a maximum load of 20 Martlet or four Sea Venom missiles, or operate with a mixed fit of 10 and two, respectively. With a 13kg (29lb) launch weight, 3-5nm (6-9km) range and Mach 1.5 performance, the laser-guided Martlet is integrated using five-round canister launchers. The high-subsonic speed Sea Venom is 2.5m (8.2ft) long, weighs 120kg and can attack surface targets to a range of over 11nm.

To offset the added weight of carrying the new anti-surface weapons, Leonardo's aerofoil-equipped weapon wing provides 360kg of aerodynamic lift on each side of the rotorcraft, Wilson-Chalon says.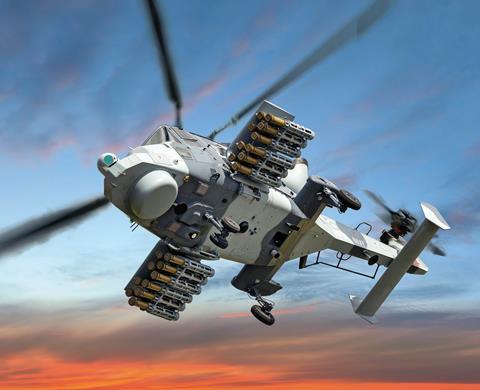 Source: Leonardo Helicopters

The RN has a fleet of 24 Wildcat HMA2s, with the British Army also using 28 of the type in a battlefield utility AH1 standard.

The navy showcased its future carrier strike capability from 28 February during a week-long visit to Liverpool by its second example, HMS Prince of Wales. The vessel will in early 2021 host a third and final series of flight trials with the F-35B, to be staged off the US East Coast, before also achieving operational readiness.
---
bug2

-

26-3-2020 at 08:45 AM



Indian MH-60R helos to be Saudi-standard, plus national mods

Gareth Jennings, London - Jane's Navy International

25 March 2020



The MH-60R helicopters to be delivered to the Indian Navy will be of the same configuration as those received by the Royal Saudi Naval Forces, plus some 'unique' modifications. Source: US Navy

The Sikorsky MH-60R Seahawk maritime helicopters ordered by India will be built to the latest Saudi Arabian configuration, with some additional national-specific modifications.

The new initial Indian baseline standard was disclosed on the US government's beta.sam.gov website on 24 March, in which it was noted that the 24 helicopters recently ordered by the Indian government will be built to the same configuration as the 10 helicopters received by the Royal Saudi Naval Forces (RSNF), with some "unique modifications" also included.

The RSNF MH-60Rs that were delivered from September 2018 are of a similar anti-surface vessel warfare (ASuW) and anti-submarine warfare (ASW) standard to the latest helicopters flying with the US Navy (USN), including AN/AAS-44C(V) multi-spectral targeting systems, AN/AVS-9 night-vision goggles, AN/SSQ-36/53/62 sonobuoys, Raytheon MK 54 torpedoes, and crew-served weapons.

The RNSF standard that will form the baseline configuration for the Indian Navy (IN) adds the Lockheed Martin AGM-114R Hellfire II air-to-surface missile and BAE Systems Advanced Precision Kill Weapon System (APKWS) which, while integrated by the USN, are not typically carried.

While the sole-source contract notification did not provide details of the Indian national-specific modifications, Jane's previously reported that the IN is to fit its MH-60R helicopters with the Kongsberg Naval Strike Missile (becoming the first country to fit any helicopter with the anti-ship missile). Other national modifications will likely comprise communications and other such equipment.

(251 of 371 words)
---
bug2

-

2-4-2020 at 09:47 PM



US trials maritime strike role for Apache helo in Persian Gulf

Gareth Jennings, London - Jane's Navy International

01 April 2020



A US Army Apache attack helicopter operating from the Expeditionary Landing Base ship USS (ESB 3) on 27 March. Source: DVIDS

The US military has trialled the use of the Boeing AH-64 Apache attack helicopter in the maritime anti-surface warfare (ASuW) role in the Middle East.

The US Naval Forces Central Command (USNAVCENT) announced on 2 April that it has conducted joint naval and air integration operations with US Army AH-64E Apache Guardian helicopters assigned to US Army Central Command's (USARCENT) Task Force Saber.

As noted by USNAVCENT, on 27 March Expeditionary Landing Base ship USS Lewis B. Puller (ESB 3) served as a landing base platform for the Apaches, while Cyclone class Patrol Coastal (PC) ships select simulated targets for them to engage. The guided-missile destroyer USS Paul Hamilton (DDG 60) also participated in the joint operations.

News of the maritime-integration trials of the US Army's Apache helicopters came two weeks after the US Air Force (USAF) trialled the use of the Lockheed Martin AC-130W Stinger II gunship in the ASuW role in the Middle East.

The Department of Defense (DoD) announced on 15 March that US Navy (USN) Cyclone-class patrol coastal ships and Boeing P-8A Poseidon maritime multimission aircraft (MMA) assigned to NAVCENT had conducted "a first-of-its-kind" joint exercise with AC-130W gunships assigned to Special Operations Command Central (SOCCENT) on 8 and 9 March. According to the DoD, the exercises were designed to enhance the capabilities of US forces to respond to surface threats and involved P-8 aircraft performing long-range reconnaissance ahead of PCs selecting simulated surface targets for the AC-130W to engage.

Both the Apache and Stinger II joint exercises are in support of the USN's Destroyer Squadron (DESRON) 50/Combined Task Force (CTF) 55, which conducts maritime security operations in support of regional security and stability in the 5th Fleet's area of responsibility (AoR) that encompasses about 6.5 million km2 across the Gulf, Arabian Sea, Gulf of Oman, Red Sea, and parts of the Indian Ocean.

(334 of 976 words)
---
bug2

-

6-4-2020 at 07:45 PM



Images emerge of possible ASW-capable variant of China's Z-20 helicopter

Gabriel Dominguez, London and Andreas Rupprecht, Mainz - Jane's Defence Weekly

05 April 2020




Images have emerged on Chinese online forums showing a second naval variant of the Harbin Aircraft Industry Group (HAIG) Z-20 medium-lift tactical helicopter that has apparently been undergoing flight trials.

The photographs show that the apparent anti-submarine-warfare (ASW)-capable variant, which is being commonly referred to as the Z-20F, is equipped with a radar under its front fuselage that is similar in appearance to the AN/APS 147/153 multimode radar fitted on the Sikorsky SH-60 Seahawk helicopter.

The variant is also fitted with small stub-pylons mounted above the front landing gear for external stores, a 'bubble' observation side window, and what appears to be a provision for a dipping sonar to be deployed from below the aircraft.

(140 of 416 words)
---
unicorn

-

6-4-2020 at 09:19 PM



But it's totally not a reverse engineered version of the Sea Hawk based on cyber-espionage.

The great guys on the Key Forums told me so and they wouldn't lie, would they?
---
ADMK2

-

7-4-2020 at 03:49 PM





Nah completely different. The Chinese aircraft has a bubble observation window, which of course means the Z-20F completely and kinematically out-matches anything the stupid imperialist Yankee dogs could ever produce...

This post has been peer-reviewed by Carlo Kopp before submitting and he concurs.
---
bug2

-

15-5-2020 at 03:27 PM



Sikorsky signs $905 million deal for 24 MH-60R anti-submarine helicopters for Indian navy

By Garrett Reim

15 May 2020

Sikorsky officially signed a contract with the US Navy to provide 24 examples of the MH-60R helicopter to the Indian navy for anti-submarine warfare.

The $905 million deal with New Delhi was anticipated, as it was reportedly cleared by the Indian Ministry of Defence in February. The sale will be handled by the USN via the Foreign Military Sale process. The first helicopter delivery to the Indian Navy is anticipated in spring 2021.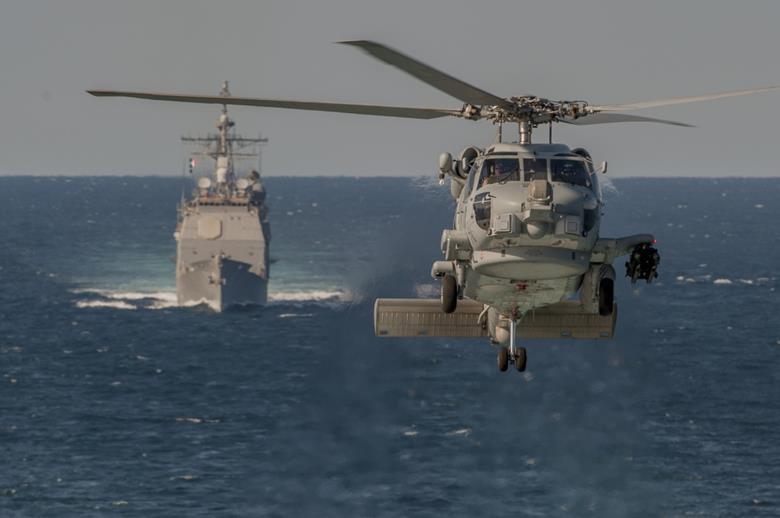 Source: US Navy
MH-60R Seahawk flying ahead of guided-missile cruiser USS San Jacinto in 2014

In the official US government contract notice, the USN is ordering three MH-60Rs, while India is ordering 21 examples.

"The US Navy has allowed us to leverage three aircraft from their inventory of brand new aircraft that have never been introduced into the fleet — in order to provide them to the Indian Navy so they can begin training on a more accelerated basis than might normally be possible," says Tom Kane, director of Sikorsky naval helicopter programmes.

Sikorsky declines to say what weapons and subsystems the Indian navy's MH-60Rs would have. However, the manufacturer says the equipment would enable anti-submarine and anti-ship warfare, as well as special operations, search and rescue, utility, vertical replenishment, and command and control missions.

Previously, the helicopters were to include weapons such as AGM-114 Hellfire missiles, Advanced Precision Kill Weapons System rockets and Mk54 torpedoes and crew served guns, according to a Foreign Military Sales approval notice sent to the US Congress in 2019. The package was also to include multi-mode radars, sonobuoys and multi-spectral targeting systems.

However, that former notice valued the possible deal at $2.6 billion, much higher than the package announced today, so it is not clear what weapons and related equipment would be included in the final sale.

"The initial value of $905 million as announced by the US Navy today is for production of these aircraft. Additional follow-on work is required for unique modifications and systems, which is currently going through the bid and proposal process," says Kane, noting Sikorsky is still negotiating with the US government. "Prices can vary depending on specific requirements, unique equipment, length and scale of support, training and logistics packages."

The main operator of the MH-60R helicopter is the USN, which has 289 examples in its fleet. It plans to fly the aircraft through 2040. The Royal Danish Navy, Royal Australian Navy and Royal Saudi Naval Forces fly the aircraft as well.

The Indian navy is also searching for 111 Naval Utility Helicopters to replace its aging fleet of Hindustan Aeronautics Chetak helicopters. Those new helicopters are intended for search and rescue, casualty evacuation, passenger and cargo transportation and torpedo drop roles.

India wants 95 helicopters out of the 111 Naval Utility Helicopters to be manufactured in country. The local offset would help replace production for the Chetak, a version of the Airbus Alouette III built in India under license.
---
bug2

-

9-6-2020 at 10:04 AM



New Naval Helicopter: the Sea Lion

(Source: German Navy; issued June 4, 2020)

(Unofficial translation by Defense-Aerospace.com)



The first NH90 Sea Lion naval helicopter was handed over to the German Navy on June 4, several years later than initially planned. Note the wide range of active and passive sensors fitted to its nose and forward fuselage. (GE Navy photo)

ROSTOCK, Germany --- On June 4, the German Navy took delivery of the first NH NATO-Helicopter-90 Sea Lion multi-purpose helicopter.

In the medium term, this modern helicopter will replace the Sea King Mk 41 and take over all of its missions, including rescue at sea. The surface fleet can also use the Sea Lion for reconnaissance.

The handover was from the Federal Office for Equipment, Information Technology and Use of the Bundeswehr (BAAINBw) to the German Navy. The naval inspector (Chief of Staff), Vice Admiral Andreas Krause, had already approved this process on May 27.

An official ceremony for the commissioning of the Sea Lion with the Naval Forces is scheduled for June 25.

The Naval Aviation Squadron 5 currently has three Sea Lions in the Nordholz base.

It is planned to procure a total of 18 NH90 Sea Lions for the Bundeswehr. The abbreviation NTH stands for "Naval Transport Helicopter," in contrast to the TTH (Tactical Transport Helicopter), the army version of the NH90.

-ends-
---
bug2

-

22-6-2020 at 06:53 PM



Chinese Navy has commissioned Z-20F/J SAR naval version of Z-20 helicopter

POSTED ON SUNDAY, 21 JUNE 2020 16:32

According to pictures released by the China Defense Blog on June 20, 2020, the Chinese Navy has commissioned Z-20F also called Z-20J by other Chinese sources, a naval version of the Chinese-made Harbin Z-20 medium-lift utility helicopter produced by the Harbin Aircraft Industry Group (HAIG). A picture of the naval version of the Z-20 was unveiled on the Twitter account of Mike Yeo on October 14, 2019.



[I]Naval version of the Z-20 helicopter called Z-20F or Z-20J. (Picture source China Defense Blog)[/I]

The new Z-20F helicopter is a modified version of the Z-20 designed to perform Search And Rescue operations like the American SH-60 Sea Hawk helicopter. The Z-20 layout is very similar to the Black Hawk helicopter but there are several key differences including a five-bladed main rotor and more angular tail-to-fuselage joint frame, giving it greater lift, cabin capacity, and endurance than the Black Hawk, as well as a fly-by-wire design.

The Z-20 helicopter is powered by two Chinese-made WZ-10 turboshaft engines. The engine is expected to deliver a maximum power of 1,600kW. It can fly at a maximum altitude of 4,000 m.

The Z-20 has a crew of two and can accommodate around 12-15 fully-equipped troops. It has a payload capacity of around 5 000 kg. It can carry around 1,000 kg internally and 4,000 kg externally. It can transport various loads, such as vehicles and artillery pieces underslung externally.

The Z-20J can be operated from the small decks of warships. According to information released by the Drive website, it features apertures for a missile approach warning system (MAWS) and it has a landing gear arrangement similar to SH-60B/F and MH-60R Seahawks.

A square hole similar to those found on Seahawk and other maritime-optimized helicopters that use the RAST (Recovery Assist, Secure and Traverse) system for recovery is also clearly seen.

The helicopter's tail boom holds a number of features, including a downward-facing UHF communications antenna and a directional data-link antenna under a dome. These are key components that give the Z-20F the capability to send large amounts of information to receivers that are located on the surface of the earth within line-of-sight.
---
unicorn

-

23-6-2020 at 09:44 AM





But it's totally not a copy of the Sea Hawk and anyone who says so is a counter-revolutionary American lackey who is attempting to halt China's inexorable and historic rise to it's rightful place and hurt the Chinese people's feelings and who will be dealt with appropriately by China-loving peoples everywhere
---
ADMK2

-

23-6-2020 at 12:57 PM





Also, don't forget anyone who dare suggests this is a racist...
---
bug2

-

25-6-2020 at 11:43 AM



Spain eyes MH-60R helicopter purchase to meet ASW requirement

By Dominic Perry

24 June 2020

Spain is considering the acquisition of Sikorsky MH-60R anti-submarine warfare (ASW) helicopters for its navy due to delays in buying NH Industries NH90s for the mission.

Speaking on an 18 June webinar organised by state-owned shipbuilder Navantia, Admiral Teodoro Lopez Calderon, Spanish chief of the naval staff, described the possible purchase of the US-built rotorcraft as an "intermediate solution".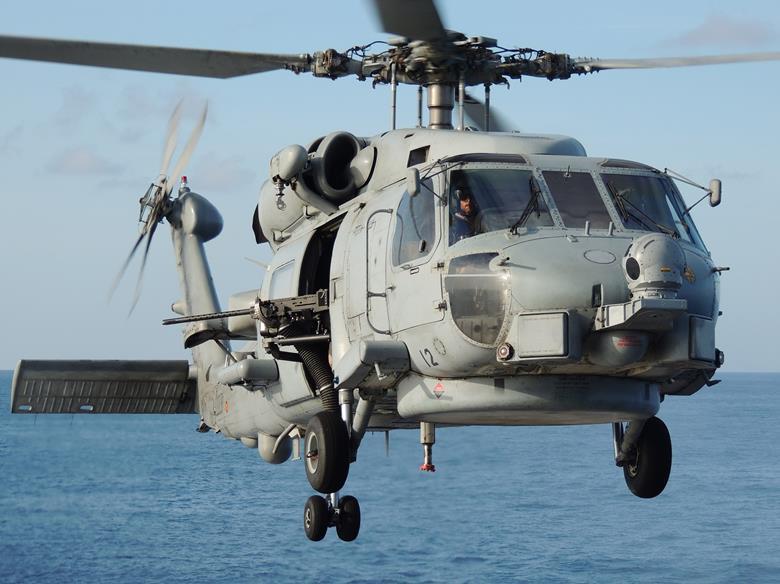 SH-60B
Source: Spanish navy

Spain's navy operates 12 ASW-roled SH-60B Seahawks with an average age of 24 years, plus three F-model examples, which are an average of 19 years old.

Calderon says that the current helicopters are "at the end of their useful lives", but with successive financial crises hitting the Mediterranean country over the past decade, their replacement is "around eight years late".

On that basis, no new NH90s would be available for the ASW mission until around 2035, he says, which would mean "15 years without" the capability.

As a result, Madrid "has no choice but to find an intermediate solution" to the problem, "which we think can be the MH-60R".

Documentation covering the potential purchase has been drawn up and is in the hands of the defence ministry, says Calderon. However, he does not detail whether these would be second-hand units from the US Navy, or new-build examples acquired via Washington's Foreign Military Sales mechanism.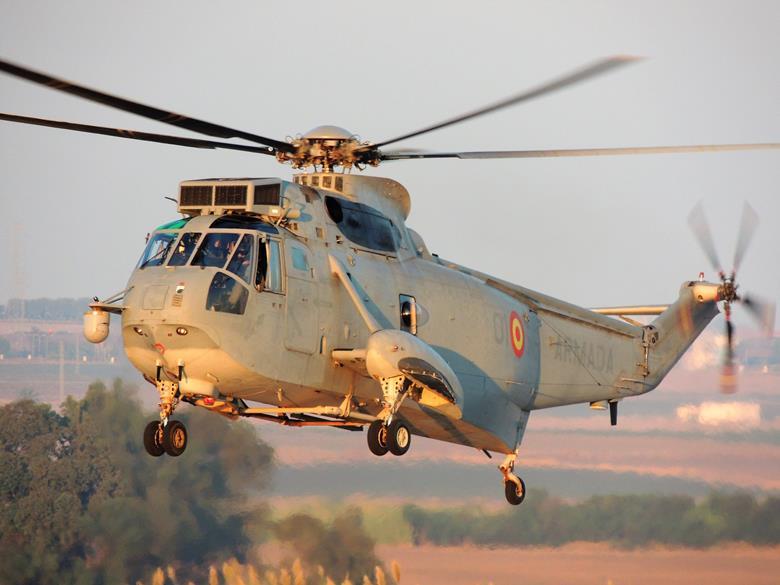 Spain Sea King
Source: Spanish navy

Spain's army already operates the NH90 for troop transport missions from an initial order for 22 helicopters. That was bolstered in 2019 by a further 23-unit commitment, worth €1.38 billion ($1.55 billion), of which the navy is to receive seven utility-roled examples to replace its aged Sikorsky H-3 Sea Kings.

Deliveries are set to run from 2023 until 2029, says Calderon, although he hints that the navy may seek to expand its inventory to an eventual 13 NH90s, "which would solve the transport helicopter question".

Additionally, Calderon notes that the service will soon have to look for a replacement for its 11 Boeing AV-8B Harriers, which will be taken out of service in the 2027-2030 timeframe.

However, he acknowledges the limited options available, pointing out that if the navy wants to maintain a vertical take-off and landing capability, only the B-model variant of the Lockheed Martin F-35 can meet that criteria. "We don't have much to think about," he says.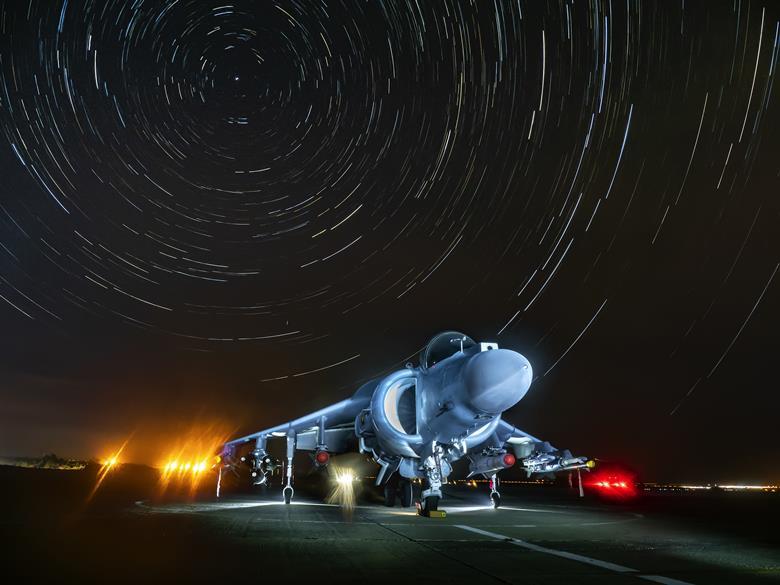 AV-8B Spanish navy
Source: Spanish navy
---
Pages: 1 2