Boeing to upgrade F/A-18 Block II Super Hornet - Growler with Advanced Cockpit Systems Block III

POSTED ON SATURDAY, 27 JUNE 2020 12:05

According to a contract released by U.S. DoD (Department of Defense) on June 25, 2020, the Boeing Co., St. Louis, Missouri, is awarded a $16,543,143 firm-fixed-price order (N00019-20-F-0870) against previously-issued basic ordering agreement N00019-16-G-0001. This order procures retrofit modification upgrades to the series aircrafts' F/A-18 Block II Super Hornet and Growler display suites within the Block III Super Hornet and Growler Advanced Cockpit Systems.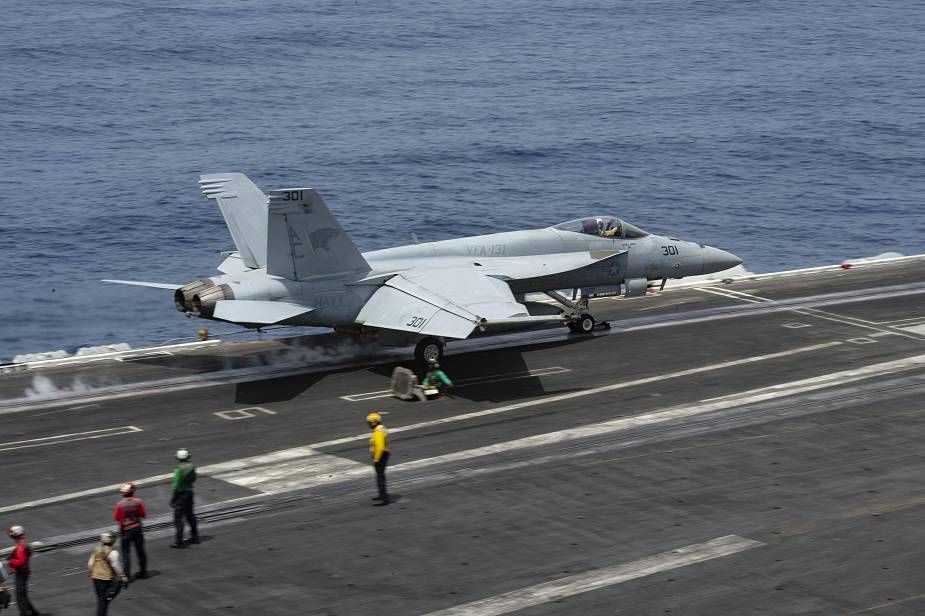 An F/A-18E Super Hornet, attached to the "Wildcats" of Strike Fighter Squadron (VFA) 131, launches from the flight deck aboard the aircraft carrier USS Dwight D. Eisenhower (CVN 69), June 23, 2020. (Picture source U.S. Navy)

The Boeing F/A-18E and F/A-18F Super Hornet are twin-engine, carrier-capable, multirole fighter aircraft variants based on the McDonnell Douglas F/A-18 Hornet. The F/A-18E single-seat and F/A-18F tandem-seat variants are larger and more advanced derivatives of the F/A-18C and D Hornet.

The single-seat F/A-18 Hornet is the nation's first strike-fighter. It was designed for traditional strike applications such as interdiction and close air support without compromising its fighter capabilities. With its excellent fighter and self-defense capabilities, the F/A-18 at the same time increases strike mission survivability and supplements the F-14 Tomcat in fleet air defense. F/A-18 Hornets are currently operating in 37 tactical squadrons from air stations world-wide, and from 10 aircraft carriers.

The F/A-18 Hornet, an all-weather aircraft, is used as an attack aircraft as well as a fighter. In its fighter mode, the F/A-18 is used primarily as a fighter escort and for fleet air defense; in its attack mode, it is used for force projection, interdiction and close and deep air support.

The F/A-18 Super Hornet has 11 weapon stations which include two additional wing store stations and will support a full range of armaments including AIM-9 Sidewinder, AIM-7 Sparrow and AIM-120 AMRAAM air-to-air missiles, guided air-to-ground weapons such as Harpoon, SLAM/SLAM-ER, GBU-10, GBU-51, HARM and Maverick; and free-fall air-to-ground bombs, Mk-76, BDU-48, Mk-82LD, Mk-82HD and Mk-84. The aircraft can also carry the GPS- / inertially guided JDAM (Joint Direct Attack Munition), JSOW (joint stand-off weapon) and JASSM (joint air-to-surface stand-off missile).

The F/A-18 Super Hornet Block III Advanced Cockpit System includes a new 10x19 inch touchscreen display that provides the pilot the capability to see, track and target multiple long-range targets generated by the common tactical picture.